Quality Plans For Swimming Pools!
Free Consultation Included With Plans!  Talk To An Expert For Free!
Call (954) 224-6002
Gunite – Shotcrete – Concrete – ICF – Form & Pour
Each plan includes design, layout, piping, electrical, structural, equipment, details and specifications. These pool plans are only $599.00! Spa plans are only $199.00!
Poolbook and our associates represent the experience of designing, engineering, and building swimming pools around the world for over 50 years. We have completed projects in every state and over 100 countries. 
Our client list includes the US Embassy in Karachi, Pakistan, several other embassy pools, the Korean World Spa Pool, the Richmond, VA Country Club Aquatic Center, numerous hotel and condominium projects and many satisfied home owners. Let's get started on your project today.
We offer plans from our Archives with savings of up to $5,000 and more. We are the leading architects and engineers for pool companies world-wide. Download your pool design, pool plans, and detailed specifications to start on your project today. 
My Pool Idea Became a Pool Design and I Purchased a Pool Plan. Now what do I do?
Congratulations! You have purchased a pool plan and are now ready to go forward with building your dream pool.
You can now hire a pool contractor to do a complete turn key pool project or you may choose to save money and become an owner builder. In either case the phases of construction are roughly the same. As an owner builder you will be responsible for inspections, hiring subcontractors, and supervising the work. As an owner builder, you can be looking at savings of up to 40% or possibly more. You can save on the contractor's overhead, sales commission, and profit margins.
Your pool design and planning should include a visit to the survey-easement-setback page under the research menu option in this website. It is important to determine the pool location not in an easement and meets the setbacks requirements of your city.
Your pool plan may require a visit to the local building department to obtain a building permit. This may require two or three plan copies, a copy of your survey, and in some cases a soil test to determine the stability of the soil in the pool construction area.
It is important to locate any underground utilities and reroute if necessary. This may include, electric, water, sewer, and gas lines. Do not forget your sprinkler system! You may need to reroute your sprinklers under your decking to get to the other side of your pool. In some areas there is a free service that will locate underground utilities.
At this point you are ready to begin the actual construction.
1. Locate and layout the shape and design of the pool according to the pool plans.
You will need to establish the elevation of the finished pool relative to the finished floor of the residence or adjacent structure. The finished pool elevation is usually below the residence. Now it's time to dig the pool.
2. Excavate the pool.
This is where you will actually dig the pool. The excavator will over dig the size of the pool to allow for the wall and floor thickness. If water is encountered, a pump will be utilized to remove the water during the construction phases. The excavation should normally take no more then one day. Some of the excavated soil should remain on site to be used for future backfill and grading.
3. Steel reinforcement.
Order the steel in 40 foot lengths if possible. This will allow for fewer overlaps and will provide cost savings. The steel installer will follow the pool plan carefully as different pool designs and features may require different reinforcement placement. The most common sizes for steel reinforcement, (rebar), are #3 which is 3/8" and #4 which is 1/2" diameter.
The steel installer will set the main drain, skimmer, cleaning and return lines, light niches, and any other embedded items. They will also install a ground wire at four places on the pool perimeter. This will be used to connect the steel to the bonding grid. The underground plumbing is installed with colored glue to make it visible to the inspector. At this point you will build a manifold connecting the main drain, skimmer, and return lines and attach a pressure gauge and hose bib. It will them be pressurized with a garden hose to indicate 35 – 50 pounds PSI and hold pressure to check for leaks. At locations where an inspection is required this piping, the pressure gauge, and the steel spacing should be ready for the inspector. Upon approval of the inspection you can proceed with the gunite or shotcrete installation according to the specifications of the pool plan.

4. Backfill.
At this point you will backfill, water in, and compact soil all around the pool.

5. Install piping.
Excavate a narrow trench from the piping manifold to the pool equipment location. Clear the trench of any rocks and debris. Now install all the perimeter piping according to the pool plans and install a manifold and pressure rig at the pool equipment location and pressurize the piping to check for leakage. Also the pool light conduit can also be installed in this trench. This piping should be a minimum of 18 inches below grade level. If a perimeter piping inspection is required you may order that at this time.

6. Backfill again.
Now you will backfill the perimeter piping trench with clean fill. This will also be watered in and compacted.
7. Tile and coping.
Provide a level tile line using a water level or laser and level the beam of the pool to meet the highest point. Install the tile and coping.
8. Equipotential bonding grid.
There will be four ground wires that were installed during the steel installation which will now be attached within an approved brass ground clamp to a perimeter ground wire installed according to the swimming pool plan. This will meet the requirement of the national electric code. This may require an inspection.
9 Install deck.
We can now cover the ground wire and finish grading and install our deck. The deck should slope away from the pool in all directions according to the pool plans.
10. Pool equipment.
Install the pool pump and filter equipment and anchor if required.
11. Electric.
The electrician will now install and connect a pool subpanel box or controller to power up all equipment and accessories and test all components.
12. Pool finish.
The pool finish plasterer will now clean the pool shell and prepare it for the waterproof plaster finish. They will also install the eyeball fittings, main drain cover, and other fittings as required from the pool plans. An example of the finish could be diamond bright, pebble tech, marble plaster which comes in various colors.
13. Fill pool.
Fill your new swimming pool. If well water is to be used prefilter the water as it is going into the pool. Test the water immediately and add chemicals or additive that are necessary to balance and stabilize the water. If the pool is equipped with a salt chlorine generator wait three weeks before adding salt to the pool.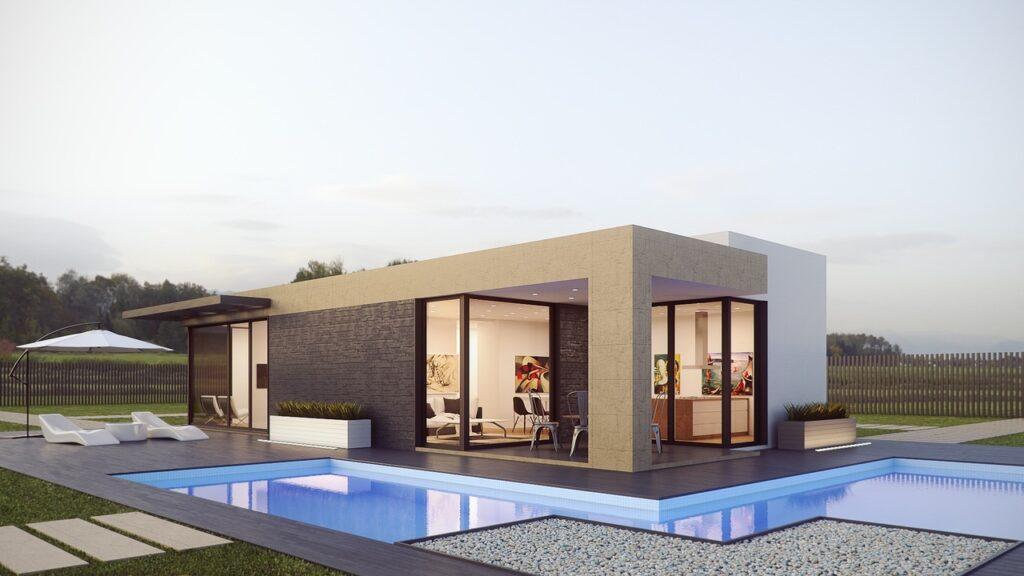 Pool Designs, Ideas and Concepts
A well-designed swimming pool will complement any outdoor living area and increase a home's value, quite aside from the pleasure it brings. If you've decided to install a swimming pool in your backyard, you'll need pool plans that reflect your pool design. You should keep the following pool ideas in mind to ensure the process is a success.
Swimming pools are now more sophisticated. They are more imaginative, innovative, and technically advanced. They are self-cleaning, self-chlorinating, and their lights change color. They have heat pumps, spas, beach entries, negative edges, perimeter overflows, tables, bars, and grottos. They have spectacular fountains and waterfalls and some look like lagoons and fish ponds.
The architectural theme of the adjacent residence or building often carries into the pool design. This is practice but not the rule. What is critically important is that the pool fits properly and is not in an easement or within the setback requirements. Setback requirements usually include pool features such as decks and waterfalls. Consult survey or plot plan and contact the local building department for guidelines. If you employ a pool builder/contractor they will do this for you. Your design should provide areas for entertaining, walkways, landscaping, and future development. Prior to excavating, locate all utilities, water lines, sewer lines, gas lines, and electrical wires. Clear buried wires by 5' minimum and clear overhead wires by 10' horizontal.
The layout of your pool will be determined to a large degree on the size of your backyard and its existing features. A pool should use space efficiently so that it does not overwhelm the backyard space and leaves room for other activities. Your backyard should be more than just a swimming pool – it is an outdoor entertaining area and included pool landscaping,  and the design of the pool based on the overall space should reflect your lifestyle and should not overwhelm the yard space.
You may need a pool survey, site plan, plot plan, or a scaled drawing which depicts the outline of the residence and other structures, easements and property lines. If your proposed pool space is an unusual size, is located on a slope, or other special considerations, you may need additional engineering. You may be required by your local authority to get a permit before installing your pool.  
Geometric – where they are rectangular, square, round, or oval
Complex – which can include freeform shapes, kidney shapes, Grecian styles, and so on. When deciding on the pool shape, you will also need to consider how the pool's depth will vary as part of its shape and whether you want to include other features such as a spa or paddle pool as part of your design.
People often create multipurpose pools that have different levels to meet these needs. Please browse our pool designs for different pool ideas.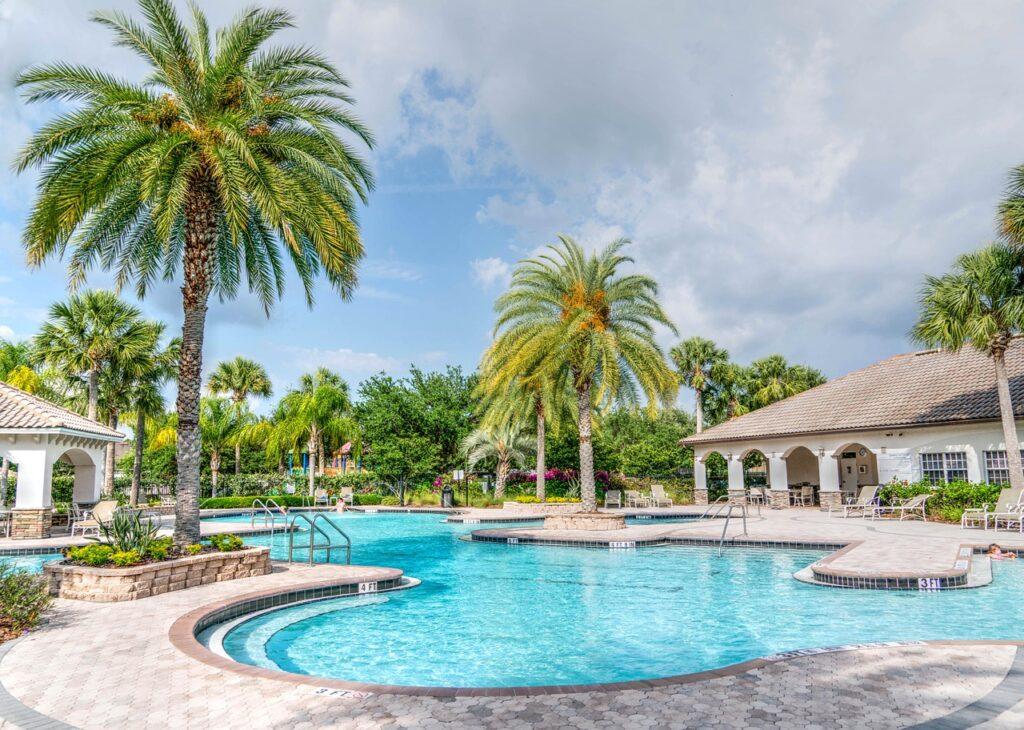 • Shotcrete
• Reinforced concrete
• ICF and Form & Pour
• Fiberglass
While the pool is usually the focus of any backyard, the aim of your pool design should be the ability to use the outdoor space year-round. This means carefully positioning the pool and allocating space around it so that you can continue to use the remaining outdoor space whether the pool is being used or not.
It is a good pool idea to leave grassed areas near the pool for children and animals to play in. You can also incorporate entertaining and outdoor areas near the pool to provide shade in summer and to keep you warm during the winter.
Paved areas can be used as platforms for outdoor furniture and as thoroughfares, while judicious positioning of garden beds and the plants they contain can complete the look while offering privacy at the same time. The design of your pool and its surroundings should focus on the practical use of space.
As a rule of thumb, a pool and its surroundings should occupy an area of what you are comfortable with of the total available space. If you are installing a pool in a limited space, however, you can use retaining walls as part of the pool and other design features to mitigate this. When designing your pool always keep in mind how and when the pool will be used and leave space in your outdoor area for other activities.
Structural, Piping, Filtration and Electrical Considerations
Swimming pools come in a variety of types and can be used in a variety of ways. You'll need to decide whether you want, for example, a pool design to create a saltwater pool or a chlorinated pool and whether it will be heated so that you can use it year-round. The construction type you choose for your pool will depend on the site where the pool is to be located and how it is intended to be used.
Your choices relating to shape, size and depth will also depend on how you intend to use the pool and dictate the best materials for use in its construction. When creating your pool plans you will need to show the pool's location on the property clearly, along with the positioning of the filtration equipment and the pool's connection to the water supply.
Pool plans will also need to show the pool design of how how the piping is to be connected to the filtration system and how it will be installed including any necessary approvals. If you intend to use the pool year-round the plans will also need to show how the main electricity will be delivered to pool heaters to heat the pool water (or those from solar collectors).
Other electrical considerations can include the advancement of pool electronics. This will allow you, at the touch of a button, to turn on lighting, heaters, pumps, or other equipment.
After deciding the type of pool idea you want to build and its supporting pool design piping and other elements, you will also need to choose an appropriate type of cladding for your pool to ensure safety and hygiene requirements as well as a pleasing look. Pool finishes are applied from the bottom of the pool walls to the top and can be provided in a variety of materials:
Reinforced PVC – this is one of the most used materials for cladding because it is adaptable, impermeable and is easy to clean. It features a smooth, non-slippery finish, is resistant to UV and is long-lasting.
Preformed Liner – this has the same technical specifications as reinforced PVC but is prefabricated based on the specifications of your pool.
Ceramic – this type of coating is used only for reinforced concrete pools. It allows you to customize the pool's surface, is resistant to cleaning agents, UV light and biological degradation.
Mosaic Tiles – tiles have traditionally been used to create elegant and beautiful pool interiors. Available in a huge array of textures and colors, mosaics are the ideal covering if you want to create a pool that has great visual impact.
Paints – paint coating techniques for concrete pools consist of painting the walls of the structure with specific products that are based on acrylic resins. It does not, however, guarantee a complete hydraulic seal and is used in combination with additives to achieve this.
By carefully planning your pool plans project, and making choices based on your pool ideas and its intended use, you can ensure your pool design becomes a prized element of your home which will add to its value.
Pergola Kit – 8′ X 16 – 9′ X 18′ – 10′ X 20′
Precut, predrilled, ready to assemble with all hardware.
Designed for severe weather.
6″ X 6″ lumber with 1/4″ thick steel plates and galvanized steel bolts.
Call to order (954) 224-6002.
Pergola Plans Pergola Ideas and Pergola Designs
If you would like to make your outdoor space more functional and extend your interior design to the exterior, you should consider putting up a pergola. In this regard, there are many pergola designs, pergola ideas and pergola plans you can find online to give you some tips on what you would like your new pergola to look like. It will take time for you to decide on the best pergola ideas, pergola designs and pergola plans for your next project, so be sure to exercise some patience during your search. To get the best pergola ideas, however, you may want to consider consulting an expert in the industry.
What is a Pergola?
This is a timber structure with an open roof. Original pergola designs and pergola plans had climbing plants growing on the timber frames on top of the structure to create a cool shade in the pergola. Modern pergola ideas, pergola designs and pergola plans, however, make use of transparent or translucent roofing materials that let in sufficient light, but prevent snow, debris and rainwater from getting into the pergola. You will also find pergola ideas, pergola plans and pergola designs with timber framing and drapery covering the top of the structure and tied to the timber column. Keep reading to get the best pergola ideas and find amazing pergola designs, and pergola plans to implement in your next home improvement project.
Pergola Materials
When looking at pergola ideas, pergola designs and pergola plans, you may notice that pergolas can be made from different materials. You will need to settle on pergola ideas with the preferred material. Please note that the weather in your region will also affect your pergola ideas as well as the choice of materials for your preferred pergola designs and pergola plans. Other considerations when looking for the best materials for your pergola ideas, pergola plans and pergola designs are cost and availability. Below is a list of materials commonly used in the best pergola ideas, pergola designs and pergola plans:
Timber
This is the most widely used material in pergola plans. Timber is readily available, easy to cut and can give your pergola a timeless look. There are many types of timber that can be used in the columns, beams and overhead framing in pergola designs. Cedar does not require any treatment, but can last a long time. However, most timber must be treated to prevent rot and damage by ants and termites. If you live in an area that gets a lot of rainfall or snow, you may want to consider using a different material because any type of timber can rot when exposed to water or moisture for a long time.
Brick and Stone
If you are looking for pergola ideas or pergola designs and pergola plans that are both beautiful and durable, consider pergola plans that make use of brick and stone. The bricks and stones are carefully arranged to make the columns that support the structure. Timber or metal framing can then be used for the roofing structure. The main advantage of brick and stone pergola plans is that they are durable. Different brick colors can also be used to create a stunning pergola. However, implementing pergola ideas or pergola designs with these materials is labor-intensive and costly. Be sure to keep this in mind when comparing pergola ideas and pergola plans.
Metal
Metal is quickly becoming the default building material in many pergola ideas, pergola plans and pergola designs in regions that experience extreme winter and extended rainy seasons. This is because timber has the disadvantage of rotting when it is exposed to a lot of water for a long time. It can also be eaten by termites and ants. With pergola designs and pergola plans that have metal columns, beams and framing, you will have a durable, sleek and modern pergola in your backyard. Please note that bricks, stones and timber can provide algae and mold with a suitable habitat for breeding, and this will give beautiful pergola designs and pergola plans an unsightly look. To avoid this, consider using galvanized metal when implementing your preferred pergola ideas.
While there are many types of metals that can be used in different pergola designs and pergola plans, aluminum is the best. This is because the material is rust-resistant, If you live close to the beach, you will not need to worry about the high humidity and high salinity causing damage to your aluminum metal pergola. After all, it is resistant to the elements.
PVC
If you can't use timber or metal in your pergola ideas or pergola designs for one reason or another, you can look for pergola plans that make use of PVC. This is a type of plastic that is strong, durable and can be molded and designed to look like timber depending on the pergola plans or pergola designs you're interested in. This means that you can have an amazing timber-like pergola, but without the rotting, algae and mold.
Pergola Designs
     1) Traditional Pergola Designs
There is nothing wrong with traditional pergola designs and pergola plans. If you want to get guaranteed results, you can opt for traditional pergola plans and pergola designs with a flat roof and heavy columns on the sides. These pergola designs and pergola plans are perfect for property owners who want a risk-free design. The pergola can be painted or stained with any color to suit your taste.
     2) Contemporary Pergola Plans
If traditional pergola ideas, pergola plans and pergola designs do not suit you, there are many contemporary pergola plans and modern pergola ideas for you to consider. For instance, you can opt for dome-shaped bamboo pergola designs. These pergola designs do not have dense timber framing, but rather a light and rigid dome that is made up of lightweight bamboo supported by thin curved pieces of timber.
     3) Retractable Roof Pergola Designs
An important feature for pergola ideas is a shade. However, it's worth noting that the shade may not be needed all the time. In the early morning, for instance, you may want the full glory of the sun to land on your skin. As the day gets hotter, you may want to cover up. To get the best of both worlds, be sure to give preference to pergola ideas with a retractable roof.
     4) Extended Porch Pergola
This is quickly becoming one of the most popular pergola designs. PVC, metal or timber framing is installed as an extension of the porch. Translucent roofing sheets are then installed as the roofing material. The extension can serve as both the porch and a pergola.
     5) Arched Roof Pergola Plans
Instead of choosing pergola plans or pergola ideas with a flat roof, consider pergola designs with an arched roof. The arched roof pergola ideas can give your pergola an amazing appearance, making it the center of attraction in the exterior of your home. The arching will also create more room in the pergola.
Features and Enhancements
The floor of the pergolas in your pergola ideas can be made up of timber or concrete and tiles. You may need to install a carpet on the floor to cushion your feet from the hard tiled surface. Since you may need to work in the pergola or charge your phone, consider connecting electricity to the pergola and install a socket outlet.
A firepit can be a wonderful addition to your pergola ideas. This will allow you to light a fire in the evenings to keep warm or just for the effect it has. You can either build a firepit or buy one to add to your pergola ideas.
For maximum relaxation outdoors, be sure to consider installing a hammock when brainstorming pergola ideas. This is one of the best enhancements you can make to your pergola ideas. Another amazing feature you can add to your pergola designs is a garden box. You can build one or buy a suitable garden box on which you can grow herbs and flowers.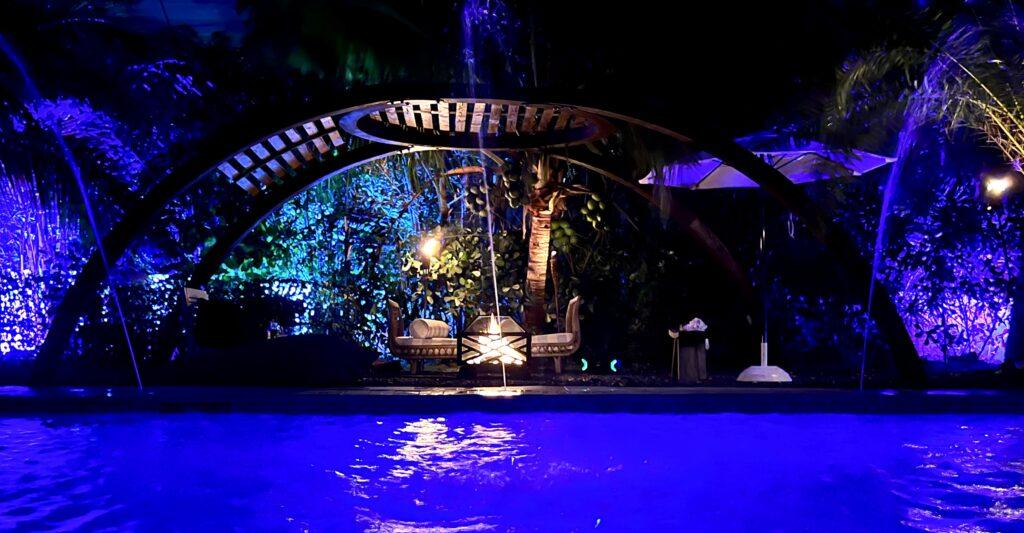 Hawaiian Pergola Kit – 8′ X 16 – 9′ X 18′ – 10′ X 20′
Precut, predrilled, ready to assemble with all hardware.
Designed for severe weather.
6″ X 6″ lumber with 1/4″ thick steel plates and galvanized steel bolts.
From $12,800.00.
Call to order (954) 224-6002.